Home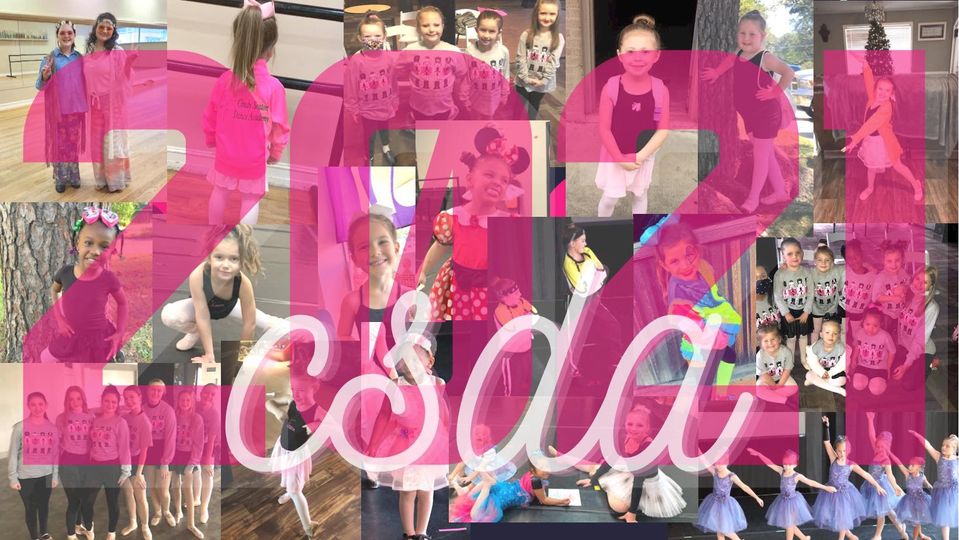 Fall Registration is OPEN NOW
It's time to mark your calendars for CSDA Open House coming up this month!
Columbia // Mon, July 12 // 4-7pm
Winnfield // Tues, July 13 // 4-7pm
Jena // Wed, July 14 // 4-7pm
Pineville // Thurs, July 15 // 4-7pm
Come get fitted for new dance clothes and shoes for our 2021-22 dance season and register for classes! This is a come-and-go event so come by whenever you can!
You can also register online by clicking this link!
Come dance with us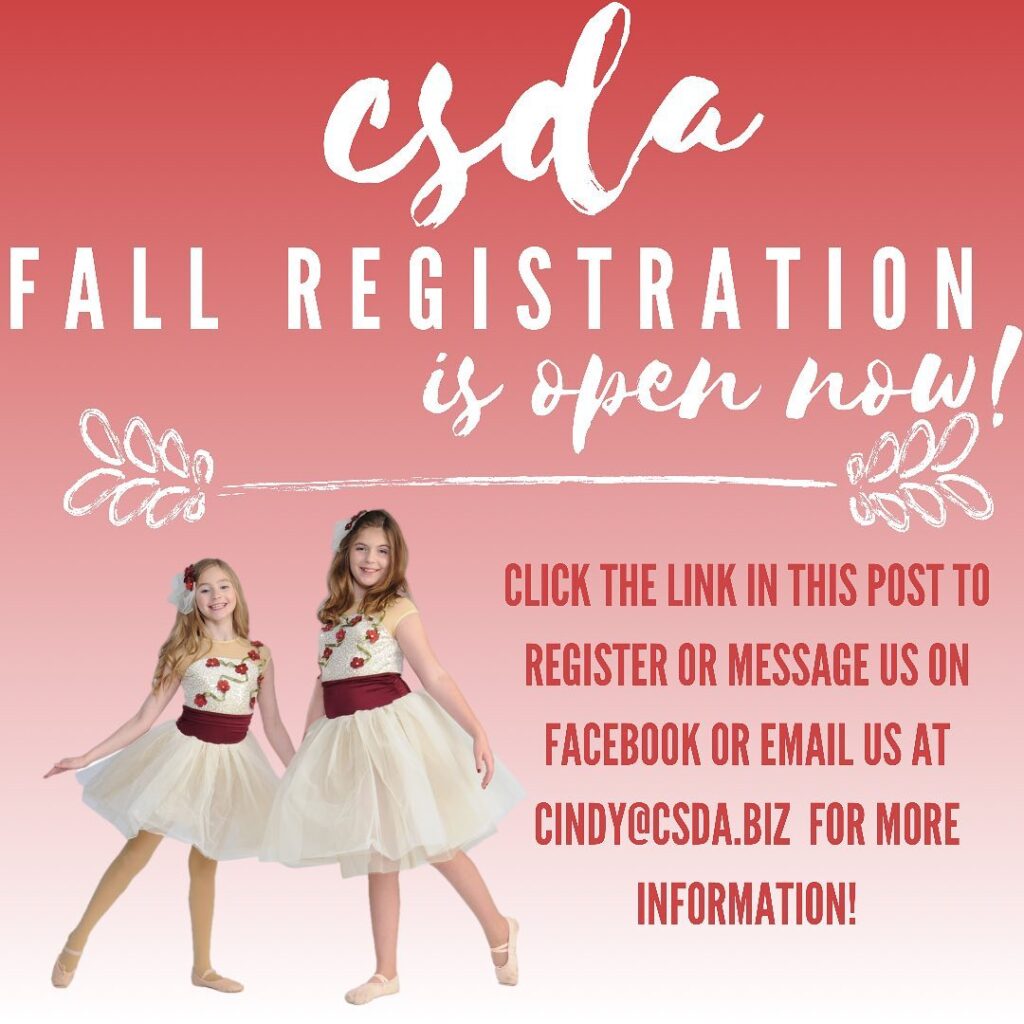 ______________________________________________________________
CSDA SUMMER SUNDAY WORKOUTS
CSDA Pineville Location
Every Sunday 2:00 PM – 4:30 PM
$15 per session
Conditioning | 30 minutes – Stretching | 45 minutes
Leaps | 30 minutes – Turns | 45 minutes
These sessions are especially helpful for students on competition team or interested in joining competition team.
This week summer workouts will be held THURSDAY, JULY 8 FROM 6:00 PM – 8:30 PM due to competition auditions this weekend. For those auditioning, we recommend taking advantage of this workout session as an additional audition prep!
Starting next Sunday, July 18, summer workouts will be every Sunday at 2 PM in the Pineville Studio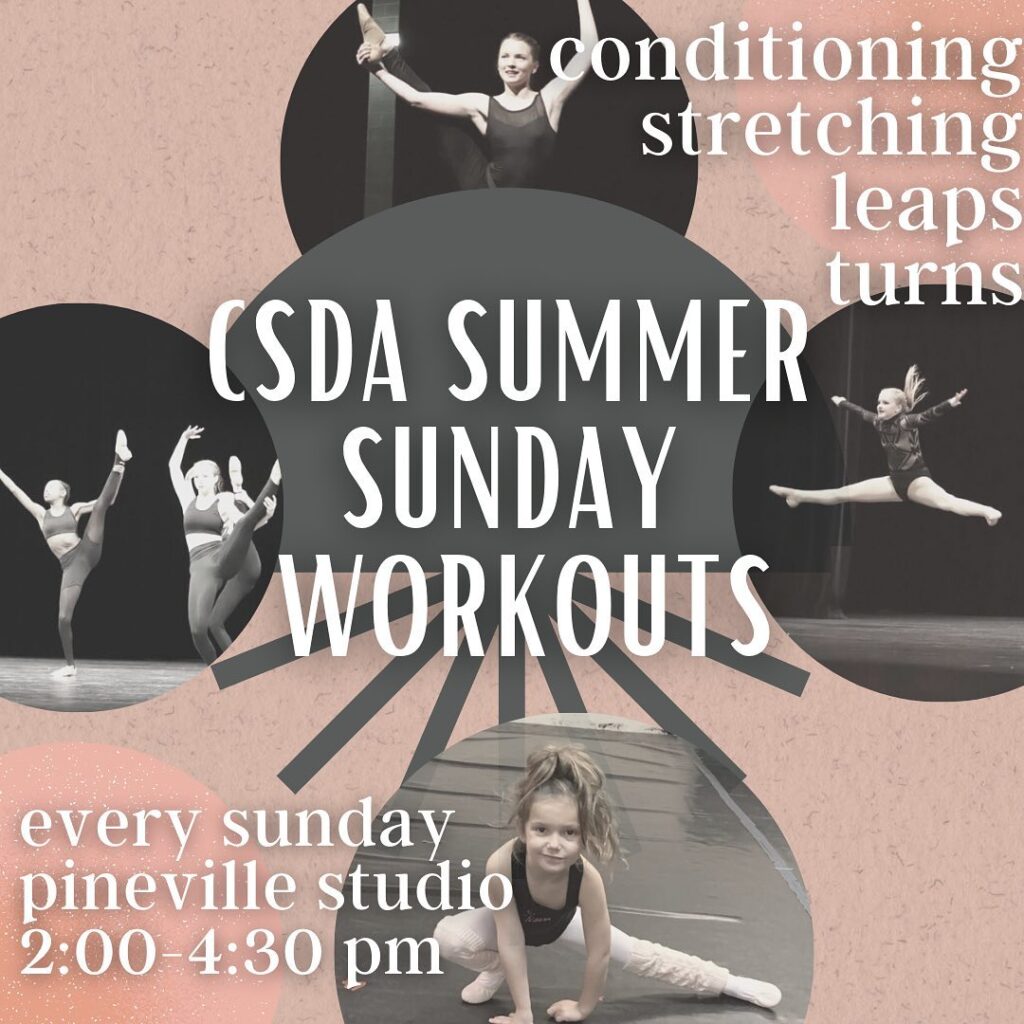 Precautionary Guidelines
Our number one priority is the health and safety of your dancers and our staff, and we have sought input from the Governor's Office as well as reviewed CDC guidelines on best practices for this unique situation. However, our policies will be adjusted for the highest possible level of caution for infection control.
When we reopen,
Dance classes will be released early by 10 minutes to allow for wiping down of all surfaces (ballet barres, countertops, stereos, etc) between EACH class.
CSDA has increased frequency and thoroughness of overall janitorial cleanings of the studio.
Staff will be checking temperatures at the door with contactless thermometers. Anyone with a temperature over 100o F will be asked to return home.
Staff will assist students in hand-washing for at least 20 seconds with soap and water prior to each class.
Upon the completion of class, students will receive hand sanitizer before leaving the dance room.
We will not require your dancer to wear a mask during class, but they are encouraged to do so. We are not responsible for providing masks to dancers, so please send your dancer with one if you would like them to wear it.
We have designated "squares" for each dancer to dance in during class which are intended to keep them 6 feet apart.
Larger classes may be split into separate dance rooms or time slots – we will notify you if that is the case for your child.
NO PARENTS OR SIBLINGS WILL BE ALLOWED TO WAIT IN THE LOBBY. Please arrive with your student off at his/her scheduled dance time, stay in your car, and a CSDA staff member will escort your dancer into the studio. We will return your dancer to the car when her classes are completed.
Please limit the number of items your dancer brings into the studio. Jackets, extra clothes, and dance bags should be left in the car. You must bring your dancer in the attire they will dance in – no one will be allowed to change clothes at the studio.
Younger can stay in their jazz or ballet shoes for their combo classes. Older students can choose jazz or ballet shoes to wear and carry in their tap and pointe shoes in their hands for their class.
Please make sure your dancer uses the restroom BEFORE arriving at the studio – we want to minimize trips to the bathroom to minimize cross-contamination between dancers and staff.
Parents and siblings may not enter the studio to use the restroom. We apologize for this inconvenience.
Please prepare your dancer that dance will look a little bit different. We understand this is difficult and they have missed their friends. Believe us, we have missed you all too. In order to be together, we need to minimize contact, which means no hugs.
This reduces the opportunity for germs and virus to be passed between families, dancers, and to staff members. Please feel free to wait in your vehicles in our parking lots.
The MOST IMPORTANT thing is that if you, your dancer, or anyone in your household has cold symptoms (shortness of breath, fever, runny nose, congestion, cough, excessive sneezing or fatigue) or has been exposed to anyone presenting the symptoms, we ask that you DO NOT COME to the dance studio.
We understand that dance class can be an escape from the craziness and will be a source of normalcy for you and your child. It is for our staff as well. It may be tempting to send a sick or exposed child or family member to the studio. However, unless we follow these policies to maintain a safe environment for dance, no one will have the privilege of enjoying dance class in this crazy time. We thank you for your patience and cooperation.
If for any reason, you are not comfortable with sending your dancer back to the studio, PLEASE contact us. We are prepared to provide you with alternative options to in-person classes and are happy to accommodate.
If you have specific questions or concerns, we will be happy to address them for you via phone, email, or Facebook messenger!
Thanks and welcome back!
CSDA staff

We know there are many options for your child's dance education and we would appreciate the opportunity to give your child a quality dance foundation. We believe that hard work produces achievement.
Thank you for your interest in our studio.
________________________________________________________________________________